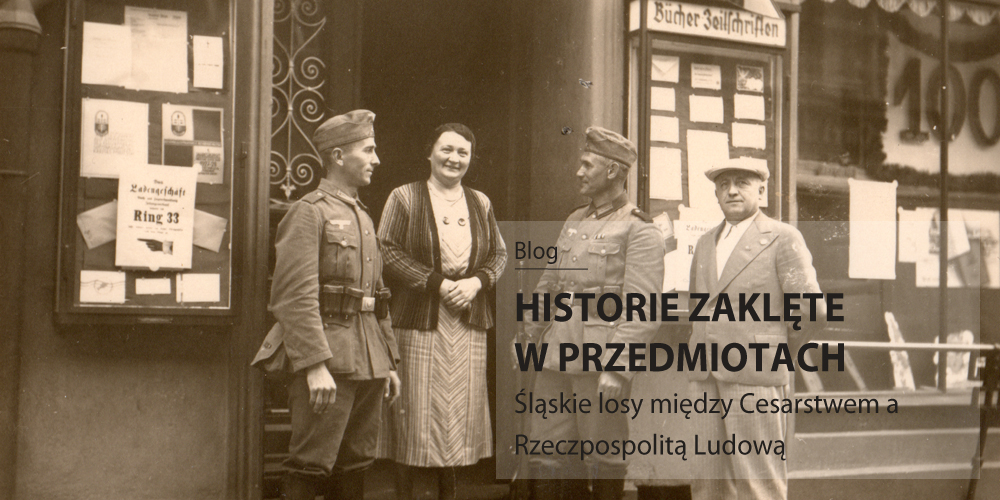 O blogu
Historie zaklęte w przedmiotach. Losy Ślązaków między Cesarstwem a Rzeczpospolitą Ludową
W I połowie XX wieku Śląsk doświadczył bardzo zmiennej historii. Dziesięciolecia między wybuchem I wojny światowej, gdy Śląsk był prowincją Cesarstwa Niemieckiego a początkiem lat 50., kiedy to jego duże części de facto należały do Rzeczpospolitej Ludowej, były pełne konfliktów, przełomów i przesunięć granic.
O ile większość Ślązaków jeszcze w 1914 roku z entuzjazmem ruszała na wojnę za cesarza, to głód w zimie 1917 także i tu gwałtownie pogorszył nastroje, pojawiły się strajki i protesty. Utęskniony koniec wojny przyniósł nie tylko własne państwo Polakom, a Niemcom nowy ustrój państwowy, ale tym ostatnim także uważany za poniżający traktat pokojowy. Po niespokojnych latach z powstaniami i strajkami, podziale Górnego Śląska i hiperinflacji nadeszły "złote lata dwudzieste", które jednak szybko skończyły się wraz ze światowym kryzysem gospodarczym 1929 roku. Szybki wzrost znaczenia NSDAP doprowadził w 1933 roku do przejęcia władzy przez narodowych socjalistów i ustanowienia nieludzkiej dyktatury. Najazd niemieckiego Wehrmachtu na Polskę 1 września 1939 rozpoczął II wojnę światową, bezprzykładną wojnę ludobójczą, która w ciągu 6 lat pochłonęła ponad 60 milionów istnień ludzkich. Do połowy 1944 roku bezpośrednie działania wojenne w znacznym stopniu oszczędziły Śląsk. Gdy w ostatnich miesiącach wojny Armia Czerwona w krótkim czasie dotarła do Odry, Śląsk stał się terenem walk i setki tysięcy jego mieszkańców rozpoczęło ucieczkę. Po zakończeniu wojny Śląsk dostał się pod administrację polską, a większość ludności niemieckiej została wypędzona. Na jej miejsce do tego dla nich całkiem obcego kraju przybyli Polacy.
Blog nie zamierza oddawać chronologicznego zarysu śląskiej historii czy objaśniać wielkiej polityki, chciałby raczej podjąć przykładowe, indywidualne losy i pojedyncze wydarzenia, opisać je i umieścić w kontekście historycznym. Na podstawie eksponatów i archiwaliów ze zbiorów HAUS SCHLESIEN i kilku zagranicznych muzeów partnerskich chcemy opowiedzieć o życiu codziennym i rodzinnym, o kulturze, gospodarce i polityce, o radościach i cierpieniach ludzi na Śląsku w okresie od Cesarstwa do Rzeczpospolitej Ludowej. Tym samym winny stać się widoczne historie zaklęte w przedmiotach i przemówić niemi świadkowie tamtych czasów.
Blog chciałby stworzyć okazję do przyjęcia odmiennych perspektyw i umożliwić różnorodne spojrzenie na życie codzienne, kulturę i historię Śląska w I połowie XX wieku. Ponadto chciałby pokazać potencjał zbiorów muzealnych, zwrócić uwagę na to, jakie znaczenie dla przekazu mogą mieć także pozornie nieatrakcyjne eksponaty oraz zrodzić świadomość tego, że również codzienne przedmioty mogą być warte zbierania.