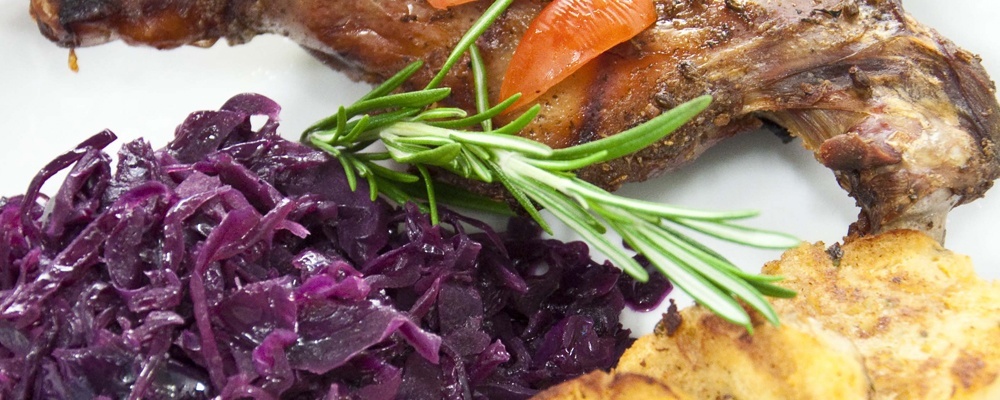 CULINARY KINGDOM
Enjoy culinary delights in a cultivated ambience. In our restaurant "Rübezahlstube" we offer regional and Silesian dishes. The menu is composed of seasonal fresh products.
In the summer time enjoy cool drinks and food specialties in our courtyard. Relax under shady lime and chestnut trees.
OUR MENU
Delicious food all day – start with a substantial breakfast buffet, have a piece of poppy-seed cake or enjoy an exquisite evening menu. Our chef de cuisine will prepare varied culinary delights for you.
It will be a pleasure to be at your service.
Saisonkarte
Spargelcremesüppchen
mit frischem Bärlauch abgerundet
und hausgemachtem Käsegebäck
6,50 €
Spargel klassisch (200gr.)
mit jungen Butterkartoffeln,
Sauce Hollandaise oder zerlassener Butter
12,50 €
dazu wahlweiße
Schinkenauswahl (Koch- oder Rohschinken)
5,50 €
schlesische Wildbratwurst
6,50 €
Spargelpfännchen "Haus Schlesien"
Medaillons vom Schweinefilet an gebratenen Spargelpins
mit Sauce Hollandaise nappiert, dazu Bratkartoffeln
22,00 €
als Seniorenteller
18,00 €
"Fronhof Röllchen"
panierte Kochschinkenröllchen mit Spargel mit einer
fruchtig – pikanten Sauce von Kirschtomaten,
an einem Salatkranz und unserem Käsegebäck
17,50 €
als Seniorenteller
13,50 €
Gebackenes Zanderfilet
in Butter gedünstet an Kräuterspargel
mit feiner Zitronensauce und Butterkartoffeln
24,50 €
als Seniorenteller
18,50 €
Portion Stangenspargel
als Beilage zu jedem Gericht
mit Sauce Hollandaise oder Butter
10,00 €
Matjes Hausfrauenart

Zwei Matjesfilets in Sahnesauce mit Apfel, Gurke und Zwiebeln
abgeschmeckt, dazu Bratkartoffeln
und ein kleiner Gemischter Blattsalat
11,90 €
Heiße Matjes in Kräutern
Zwei Matjesfilets in einer Kräuterpanade gebacken, dazu
eine Senf-Dill-Sauce, frischer Gurkensalat und Butterkartoffeln
13,50 €
Rauchmatjes
2 Rauchmatjes mit viel frischen Zwiebeln, hausgemachter
Preiselbeer – Meerrettich Sahne, Bratkartoffeln und Speckböhnchen
12,90 €
Danziger Matjesteller
Zwei Matjesfilets an Kräuterrührei mit Krabben,
Bratkartoffeln und Creme von frischem Meerrettich
13,50 €
Matjesvariation " Haus Schlesien"
Je ein Filet vom Rauch-, Sherry- und normalem Matjes
mit Apfelmeerrettich an kräftigem weißem Bohnensalat
mit frischem Rösti
15,00 €
Sherrymatjes "Sylter Art" Eine ganz besondere Spezialität
Zwei in feinem Sherry gebeizte Matjes auf Kartoffelrösti mit einer
Meerrettich – Kräuter Schlagrahm und feinem Blattsalat
15,50 €
OPENING HOURS
Friday to Sunday 12:00 p.m. – 9:00 p.m.
Wednesday and Thursday 3:00 p.m. – 6:00 p.m. cake an coffee
6:00 p.m. – 9:00 p.m. à la carte