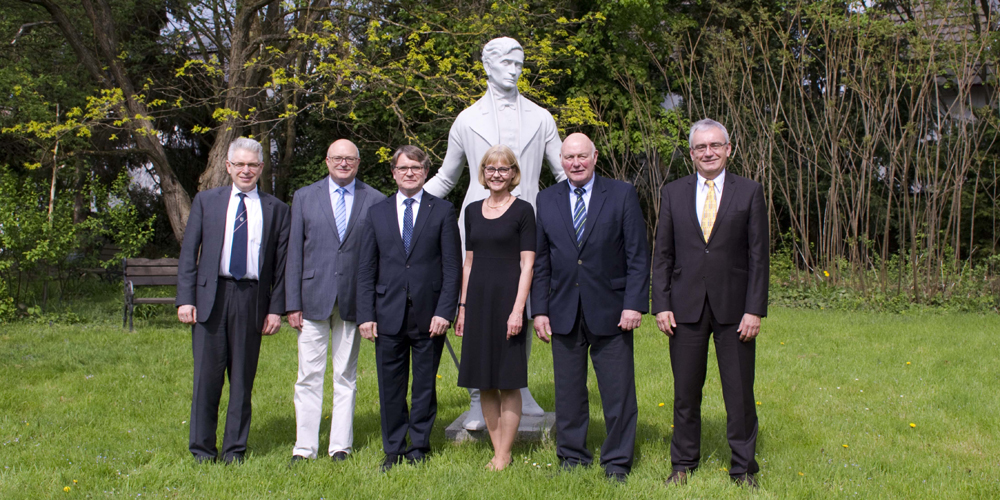 ASSOCIATION
The non-profit association HAUS SCHLESIEN is the responsible body. The Members Committee is the supreme body, which meets at least annually and which is responsible for the stipulation and definition of the association's goals by the Articles of Association. The Executive Board is elected by the members committee for a three-year term and is responsible for the honorary management of the association.
The current Board members are:
President Prof. Dr. Michael Pietsch (Mainz)
1. Vice President Adrian Sobek (Köln)
2. Vice President Alfred Theisen (Görlitz)
Treasurer Ernst Kückels (Ratingen)
Board Member Karl-Heinz Nagel (Schifferstadt)
Board Member Nicola Remig (Bonn)
Board Member Kristian Bielow (Leipzig)
Membership
The future of the association depends on its membership, thus anyone interested in HAUS SCHLESIEN is a welcome to become a member. The members support the goals and the cultural activities of the association either by non-material engagement, transfer of cultural heritage, visits and advertisements or monetary contributions and donations. The quarterly issue of "Brief aus dem HAUS SCHLESIEN" (Circular HAUS SCHLESIEN) reports on all activities of the association. The membership is managed by Ms Sabine Beringer (phone +49(0)2244 215 or mitglieder@hausschlesien.de).
Membership application form (PDF-form download)
Direct debit (PDF-form download)
HAUS SCHLESIEN is exempted from corporation tax under section 5 paragraph 1 sentence 9 of German corporation tax law owing to its tax-privileged purpose. The association is entitled to issue donations and membership fee receipts for tax purposes.
Bank Details:
Volksbank Köln Bonn eG
IBAN DE68 3806 0186 2601 3180 19
BIC GENODED1BRS